Category:
Various Artists
Sounds Like:
My recent trip to New York
This is a cross section of the sounds I heard and the things I saw while in New York recently. Next to each song is an explanation of why it has been included.
Enjoy.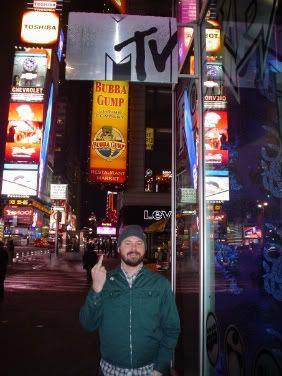 NYC Mix
1. Sonic Youth - I Dreamed I Dream
(I missed a Thurston solo show while up there)

2. The National - So Far Around The Bend
(Saw them play at the Tibet House Benefit)

3. Creaky Boards - The Songs I Didn't Write
(I got to hang out at the studio where Coldplay mixed their rip-off of this song)
4. Vampire Weekend - M79
(Saw them play at the Tibet House Benefit)

5. Matt & Kim - Don't Slow Down
(Just a good NYC band that just put out a new album)

6. Public Enemy - Welcome To The Terrordome
(what NYC comp is complete without PE?)

7. Beastie Boys - An Open Letter To NYC
(A little cheesy, but this song kind of summed up the whole trip, plus the song is built on a killer sample)

8. The Dead Boys - Sonic Reducer
(one of their pics was stolen from it's spot on the wall at Manitoba's; one of my favorite old school NYC bands; my band even covers this song)

9. Iggy Pop w/David Bowie - Raw Power
(Two different tastes that taste great together when in NYC)

10.
The Thermals - No Culture Icons
(Saw them play at the Bell House in Brooklyn)
11. Bad Brains - Attitude
(Saw posters for the Bad Brains Vans shoe line all over The Village)

12. The Sonics - Strychnine
(Heard this song played by two different DJs at two different bars on the same night; how can you not love a city where that happens?)

13. Patti Smith - Rock n Roll Nigger
(Saw her play at the Tibet House Benefit, she spit on the stage but wiped it up after; so raw and yet so polite)

14. Fear - New York's Alright If You Like Saxaphones
(saw posters for an upcoming John Zorn show all over the East Village)

15. The Ramones - Howling At The Moon (Sha La La)
(It's the fucking Ramones! Did you think I'd leave them out of a NYC comp?)
Sonicgabe